Venture Cruises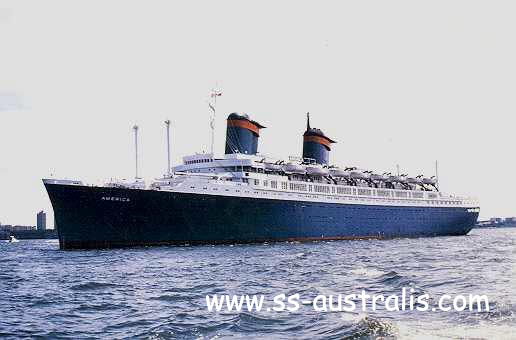 The AUSTRALIS was sold by Chandris to Venture Cruises of New York in 1978 after been layed up in New Zealand. She returned to New York and again was renamed 'AMERICA', her hull was repainted blue with white upperworks. Her funnels were also painted blue with a red band and black capping. Venture Cruises intention was to create short cruises "Las Vegas afloat"type of affair.
It is often said that it is bad luck to rename a ship an old name, and althought there were no problems renaming WESTPOINT back to AMERICA, bad luck hit her this time, it was certainly not 3rd time lucky.
On 30th June 1978 she set sail but was arrested shortly after by order of the US District Court on 18th July 1978 for non-payment of debts. This was due to her arriving for her first cruise somewhat incomplete. She was seriously overbooked and cabins had not been assigned until sailing time and subsequently furious passengers ' mutinied' and forced the captain to turn around and head back to New York, she had only just passed the Statue Of Liberty, where 960 passengers disembarked.

Upon sailing again that day and traversing the Hudson a further 200 disgruntled passengers disembarked by tender at Staten Island. On 3rd July 1978 The 'AMERICA' left for a five day cruise to Nova Scotia , upon her return she was met with $2,500,000.00 worth of claims from irate passengers. Further problems and cancellations saw all of her bookings and trips cancelled. Overbooking, plumbing problems, poor accommodation and poor management were just a few of the complaints mentioned.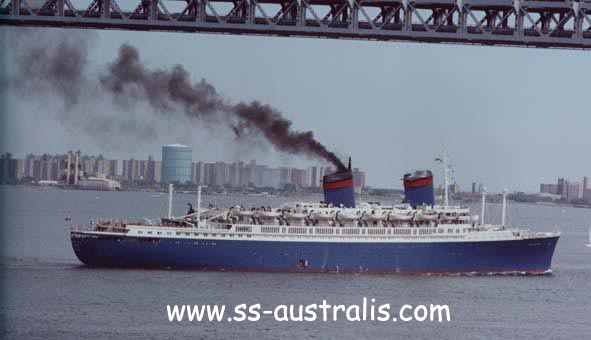 The company attributed blame to the pier where she was docked, stating that the ship required a 10m draft and the pier was only at it's best 10m deep. They claimed the ships water intakes and discharge valves were clogged with river mud causing many problems with plumbing – this however did not contribute to the many other complaints.
The US Public Health Service gave the 'AMERICA' an inspection score of 6 out of 100 – only two other ships had ever scored so low. The US District courts ordered the AMERICA to be auctioned on 28th August 1978.
Click to move to her next chapter :SS ITALIS 1979