Each chapter of the ships rich history has its own page, to move to the next chapter please scroll down and click the link at the bottom of the pages to move through the historical account.
In 1933 United States Lines and the Shipping Board of America began negotiating for the building for United States Lines an Ocean Liner to replace the "Leviathan". On March 19th 1934 The United States Lines and the Shipping Board signed a contract promising to start construction within the next 6 months. In April 1934 it was reported that Gibbs and Cox Naval Architects were to be given the job of designing the ship.
Due to problems centered around the "Leviathan" the agreement was stalled several times however the agreement became effective March 18, 1935, and two days later United States Lines President, Basil Harris, said "that they would proceed rapidly with the Gibbs & Cox plans for a $12 million, 50,000 gross ton, 24 knot super cabin liner". After summer passed with no action, the Shipping Board on September 14th 1935 instructed United States Lines to order the ship by December 16th or face a $1 million penalty. Bids were requested on October 10th, and opened on No vember 12th; only Newport News Ship- building & Dry Dock had tendered, and at a staggering $15,890,000.
After many negotiations and further tenders the authorisation came through and a $15,759,000 contract was signed on October 22nd 1937. Preparations began at once, on June 19th 1958, it was reported that "5,000 tons of steel (30 per cent of requirements) had been assembled at Newport News and the keel was to be laid in late August, or early September", the launching set for July 15th 1939, and delivery on February 20th 1940. The final lines and dimensions were approved on February 8th 1938.
The keel for Newbuilding No. 569 was laid at 11:00 a.m. on August 22, 1938. The new Maritime Commission Chairman, Rear Admiral Emory S. Land, drove in the first rivet (for which he received a shipyard 'pay check" for six centsl) in ceremonies attended by the lines Vice President, A.J. McCarthy, and Newport News President, Homer l Ferguson. By September 19th, 4,222,935 pounds of steel and 112,000 rivets had gone into completing her double bottom. And she finally had a name:
On December 4, 1938, United States Lines President, John Franklin, revealed it would be AMERICA. Among the suggestions received were COLUMBIA, MARTHA WASHINGTON, CONSTITUTION, MAYFLOWER, MOUNT VERNON, ABRAHAM LINCOLN, UNITED STATES, NEW YORKER, CHICAGO, PITTSBURGH and GETTYSBURGH.
Although construction proceeded well the original launch date was moved to July 15th 1939. However on July the 4th this was again advanced to the 31st August 1939. On this day at 11.50am a crowd of some 30,000 people watched the first lady of the land Mrs. Franklin D Roosevelt christen the ship 'SS AMERICA" The primer painted hull with a launch weight of 16,870 tons slipped majestically into the James River. The America had been born….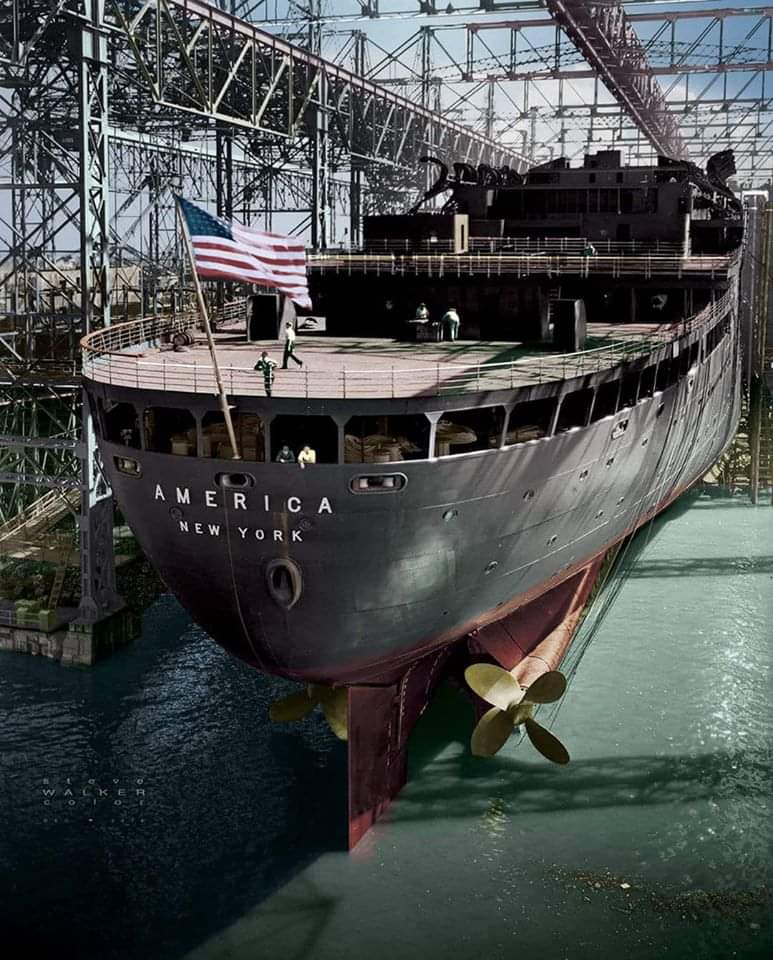 Click to move to her next chapter : SS AMERICA 1940 – 1941