US Navy "The Grey Ghost" AP 23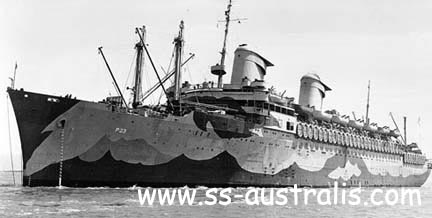 SS AMERICA was requistioned to assist in troop carrying during WWII and was officially numbered AP23. Initally she was given the number P23 (personnel carrier) however upon fitting of her anti aircraft guns she became AP23 (Armoured personnel carrier)
Upon arrival at dry docking and within 17 hours the SS Americas hull had been completely repainted to a grey colour – giving her the war time name as the grey ghost.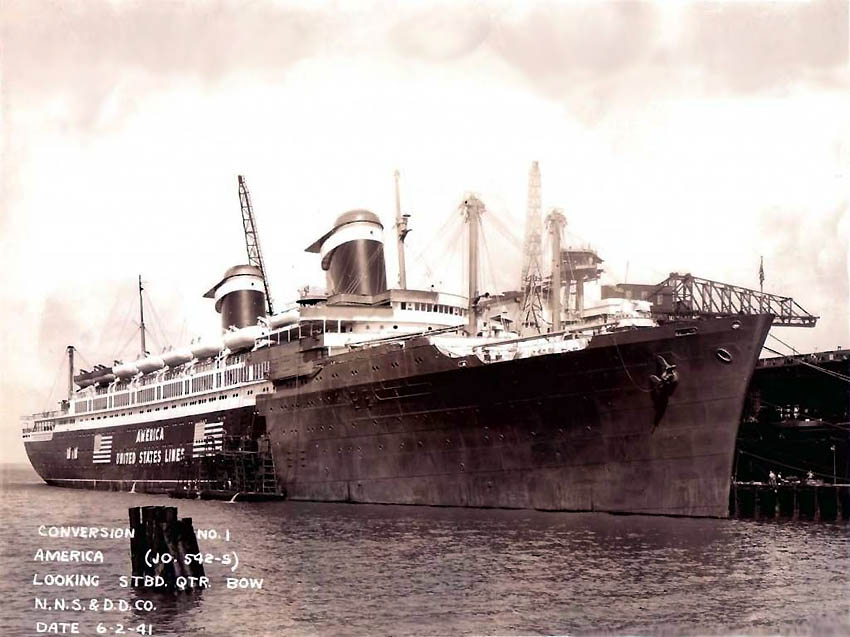 A row of life rafts covered her Promenade Deck windows, and four- tier standee bunks were installed eve rywhere, giving her an initial capacity of 5,400 men. The Smoking Room and Cock- tail Lounge became the officers' ward- room and mess, the Library became a latrine, the Lounge was a movie theater, the Ball Room had bunks for 545 men, the Dining Room was the enlisted men's mess and the adjoining foyer used to wash mess kits. Two desalinization units, paravanes, mast look-out platforms and 1,500 tons of ballast were added. She was, however, quietly fitted with a degaussing cable for protection against mines on 3 January 1941.

Degaussing can be explained here https://www.scienceabc.com/innovation/what-is-degaussing-and-how-does-degaussing-work-applications.html
AMERICA was commissioned as the "Convoy Unit Loaded Transport" U.S.S. WEST POINT and was commanded by Captain Frank H. Kelley, Jn, USN, with Captain Stedman as ('exec" during the shakedown period, after which he became Commandant of the Merchant Academy, Kings Point, New York. Most of the crew came from New England Naval Reserve units.
After five days of working up exercises off the Virginia Capes, WEST POINT returned to Norfolk on June 20, 1941, for additional refitting. Appropriately, her first assignment proved to be the ship's first Atlantic crossing. She embarked 137 Italian and 327 German consular officials off Staten Island on July 16 and landed them at Lisbon on the 23rd. With 321 American and 67 Chinese consular staff and their families, WEST POINT sailed three days later for New York and arrived on August 1st.
Refitting at Norfolk Navy Yard, September l5 October 1, included installing five inch 51-cal. guns, four 3-inch 50-cal. guns, four 1.1- inch quad mounts and 16-20 nun Oerlikons. America was still at peace, but her largest liner was armed and stripped for action and her once divergent and green officers and crew were now a Cohesive, trained unit.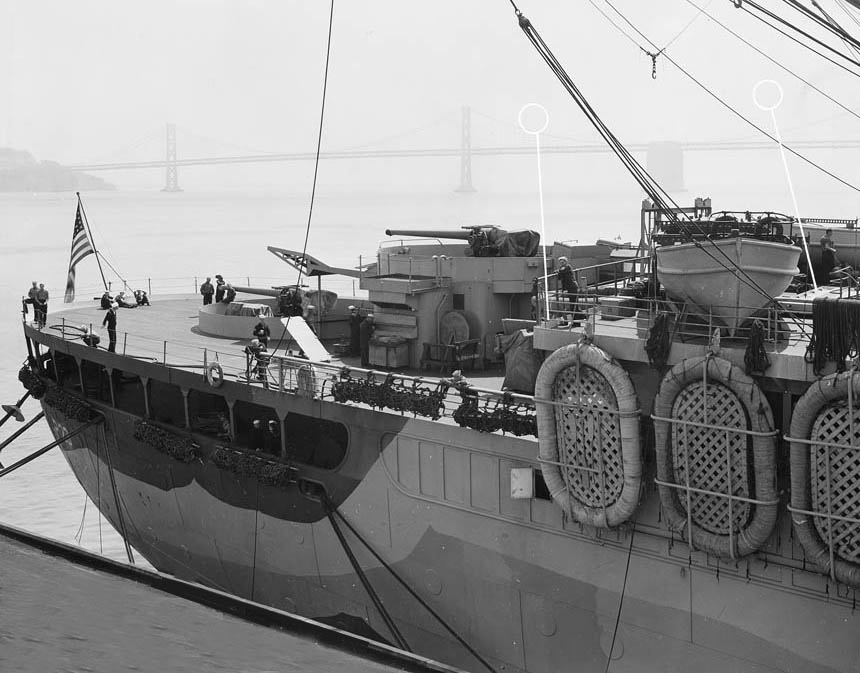 In perhaps a "first" for a U.S. Navy vessel, a baby boy was born aboard on February 4th on the Equator, christened Westpoint Leslie Sheldrake, and the crew "initiated the juvenile pollywog into a heavenly shellback, certainly the youngest in the history of the Navy". The transports reached Colombo, Ceylon, on February 6th, but owing to port congestion there, left two days later for Bombay with WEST POINT carrying 116 civil ians and 670 troops, escorted by the Greek destroyer VASILISSA OLGA.
Now alone, WEST POlNT'sailed from Bombay on February 16, 1942, for Suez to embark 5,353 men of the Australian 7th Division forAdelaide via Fremantle. On April 1st she proceeded to Melboume, Wellington and across the Pacific to arrive at San Francisco on the 24th. With 5,526 GIS aboard, she returned "downunder" to Wellington on May 31st.
Upon her return and after a short refit to increase her capacity, WEST POINT sailed from New York on August 6, 1942, for Halifax and to Liverpool with 7,441 troops. On the return crossing from the Clyde, she was in the same convoy as WAKEFIELD which caught fire on September 3rd. As a result of this incident, and to improve fire safety and increase troop capacity, the Navy had the WESTPOINT enter Todd's Brooklyn yards to be stripped of unnecessary bulkheads and fittings and the four-tier standee bunks became five-tier (providing barely 16 inches of space in between) to give a new capacity of 8,000 men.
Reassigned to the European Theatre of Operations in 1944, WEST POINT entered the most demanding and valuable phase of her wartime career. Instead of the varied ports, often placid days steaming at 18 knots beneath the Southern Cross and time for rest and refit upon returning home, WEST POINT and her men soon adapted themselves to the rigors of the North Atlantic run. Hard steaming through fog and filthy weather on a zig- zag pattern at 22-24 knots with no escort and time between crossings measured in hours. Now, her defense-oriented design proved invaluable. The huge bunker capacity enabled her to steam at top speed across the Atlantic and back without refuelling, keeping her U.K. tum- around time to 36 hours or less. Her capability to steam full speed on just five boilers permitted rotating maintenance underway on the sixth.

The new routine was hard on crew and passengers. There was alternating monotony and tension, (calm weather one day that brought increased risk of U- boat attack, and foul the next that could break green water over the bows and reduce 8,000 fit fighting men into miserable seasick wretches. The safe arrival of WEST POINT and her precious 8,000 passengers on schedule was an absolute priority, requiring steaming at full speed regardless of weather or traffic conditions. The most tense part of the crossing was the approach through the Irish Sea to Liverpool and Gourock when radiomen, radar operators and range finders stood double watches on constant alert for U-boat warnings and course change orders. On one trip, 25 submarine reports were received within 24 hours.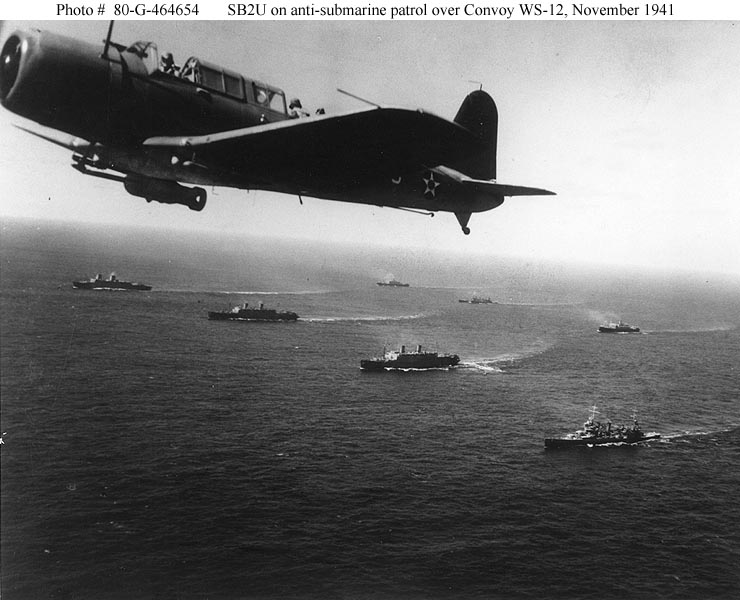 Click to move to her next chapter : SS America 1946 – 1964